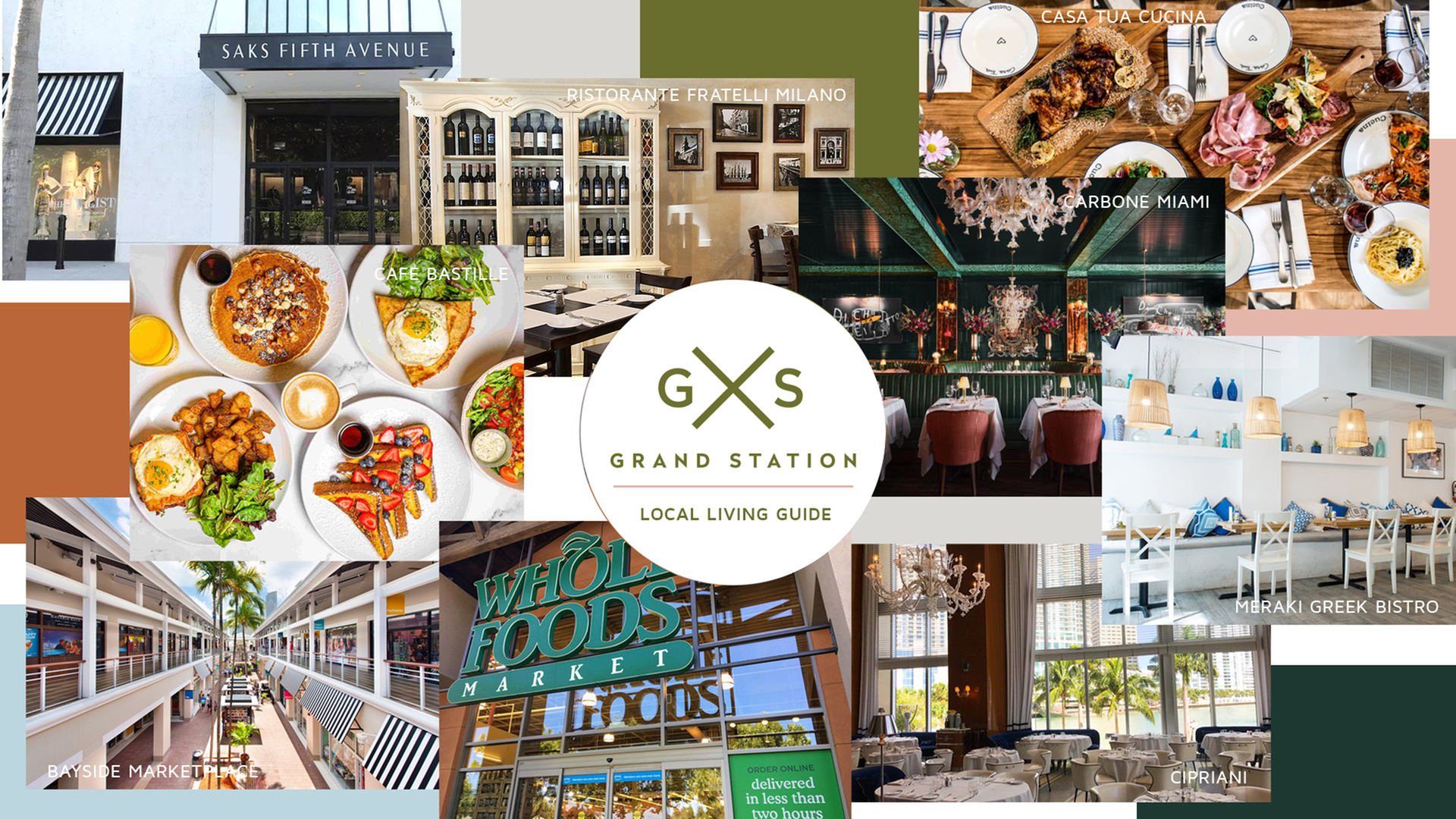 Welcome to your official Grand Station Local Living Guide!
The Food & Shopping Edition.

Grand Station is in the heart of Downtown Miami and surrounded by fresh markets, enchanting restaurants, and endless business opportunities. Living at Grand Station can take you anywhere! Whether your preferred mode of transportation is bicycle, car, Metro Mover or Brightline; here are a couple local hot spots all within minutes of our community.

Let's start with the necessities: groceries, local markets, & shopping.
Wholefoods, Publix, and Winn Dixie are all less than a 6-minute drive from Grand Station. But the real Miami spice is found at the Latin & International markets sprinkled throughout Downtown; a true melting pot of resources and ingredients. Shopping by the bay at world renown Bayside Market Place is just a 6 min drive away. Looking for a little luxury? Good news, Saks Fifth Avenue and Louis Vuitton are both less than a 7 min commute!

All that shopping can certainly work up an appetite. Thankfully, most of Miami's greatest food spots are located near Grand Station! One of our favorite eateries is Café Bastille, half a mile from Grand Station. Let's talk Italian… Ristorante Fratelli Milano & the fabulous Casa Tua Cucina at a breve distanza! Both a 6 Min drive away. Just south of the Miami River you'll find the fabulous Cipriani restaurant offering panoramic views of the Biscayne Bay and the highest quality artisanal Italian food (be sure to ask for their in-house ice cream).
Craving something light and healthy? It's a short 0.8-mile bike ride to La Sandwicherie and an even shorter 0.4-mile bike ride to the Smoothie Spot. Or you can take an afternoon stroll to Brunch at the fresh Meraki Greek Bistro, opa! Grand Stationers can choose from a plethora of authentic restaurants nearby including Peruvian, Jamaican, Cuban, Japanese, Indian, and Mexican. Oh and Venezuelan!: as mentioned on our social media #GSpicks of the week, MONDU is a must have, just a 3 minute walk from Grand Station, located on NE. 1st Ave for the best Venezuelan Cachapas & hotdogs! Also, the ever-popular vegan spots, bakeries, burger-joints, & pizzerias. Hungry yet? New Yorkers don't fret! We have recently welcomed and continue to see an influx of heavy-hitter restaurants moving down from up North. In December, Marcus Samuelsson opened a second edition of his Harlem boîte, the Red Rooster, in Miami, 5 minutes from Grand Station. New York-based restaurant Carbone is 12 minutes away via MacArthur Causeway. The ever-evolving culture here is causing a buzz and has everyone calling Downtown "Miami's Little Manhattan", a tropical & laidback version thereof.

Stay tuned for the Grand Station Local Living Guide Part 2, a guide through local entertainment, arts, leisure, and opportunity.