With Memorial Day nearing, we at Grand Station find it important to express our appreciation to all our veterans, military, and local Miami hometown heroes. It is with great respect & honor that we introduce to you, the Grand Station Hometown Heroes Program.

Since its inception in 2009, Monument Capital & Asset Management have offered the Hometown Heroes Program in recognition of those prospective residents who serve the community on a daily basis. The Hometown Heroes program at Grand Station is designed to give back to those who help make our community a better place to live.

We are delighted to bring this program to Downtown Miami offering real savings and the benefit of reduced move-in costs for our local active/retired military, firefighters, police officers, nurses, paramedics/EMTs, and teachers!

In Downtown Miami we walk amongst humble heroes. Downtown is home to The Miami Police Department, The Miami-Dade Courthouse, & Jackson Memorial Hospital. Our neighbors are military personnel, first responders, sworn officers, medical staff, educators, and honorable civilian employees.

A community of

hardworking heroes.

Our local Police Dept. alone employs approximately 1,300 officers and over 400 diligent citizens making it the largest municipal police department in all of Florida and a true Mecca of heroes. We also highly respect and praise the expert physicians, compassionate nurses, and admirable workers at Jackson Memorial who

offer the best care and thrive on building the health of our community. At Grand Station we are very proud to also house active military & veterans and offer this program to such prospective residents

.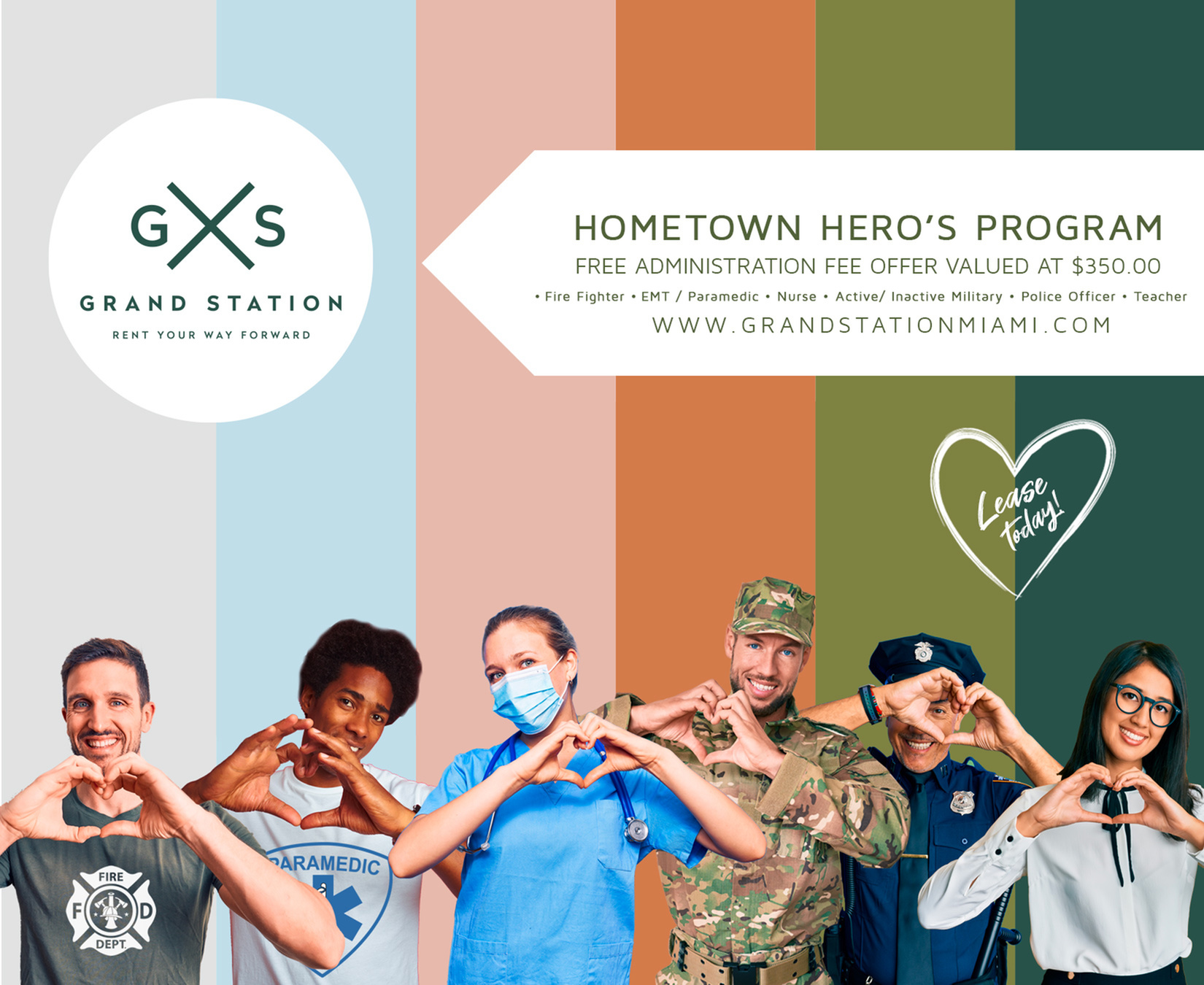 In appreciation of your service, our brand-new community Grand Station, is proud to offer local Miami Hometown Heroes a FREE administration fee valued at $350.00 off total move in costs. For more information about the Hometown Heroes Program contact our Grand Station Leasing Team at (305) 961-1044. This program is offered at all Monument communities, the amount of the discount is subject to change from community to community.

To inquire about the

Monument Real Estate Services

Hometown Heroes Program specials near you please contact our team at (877) 671-6737.





A special thank you to all active and retired military who we honor year-round at

Grand Station, a

community filled with respect, opportunity, and inspiration at every turn. Welcome & thank you all for your service!