New Moms & Dads have a lot on their minds and creating a nursery is a hefty yet gratifying project. Feeling a bit overwhelmed? Here are 10 easy-to-do tips that will transform your second bedroom into a chic nursery.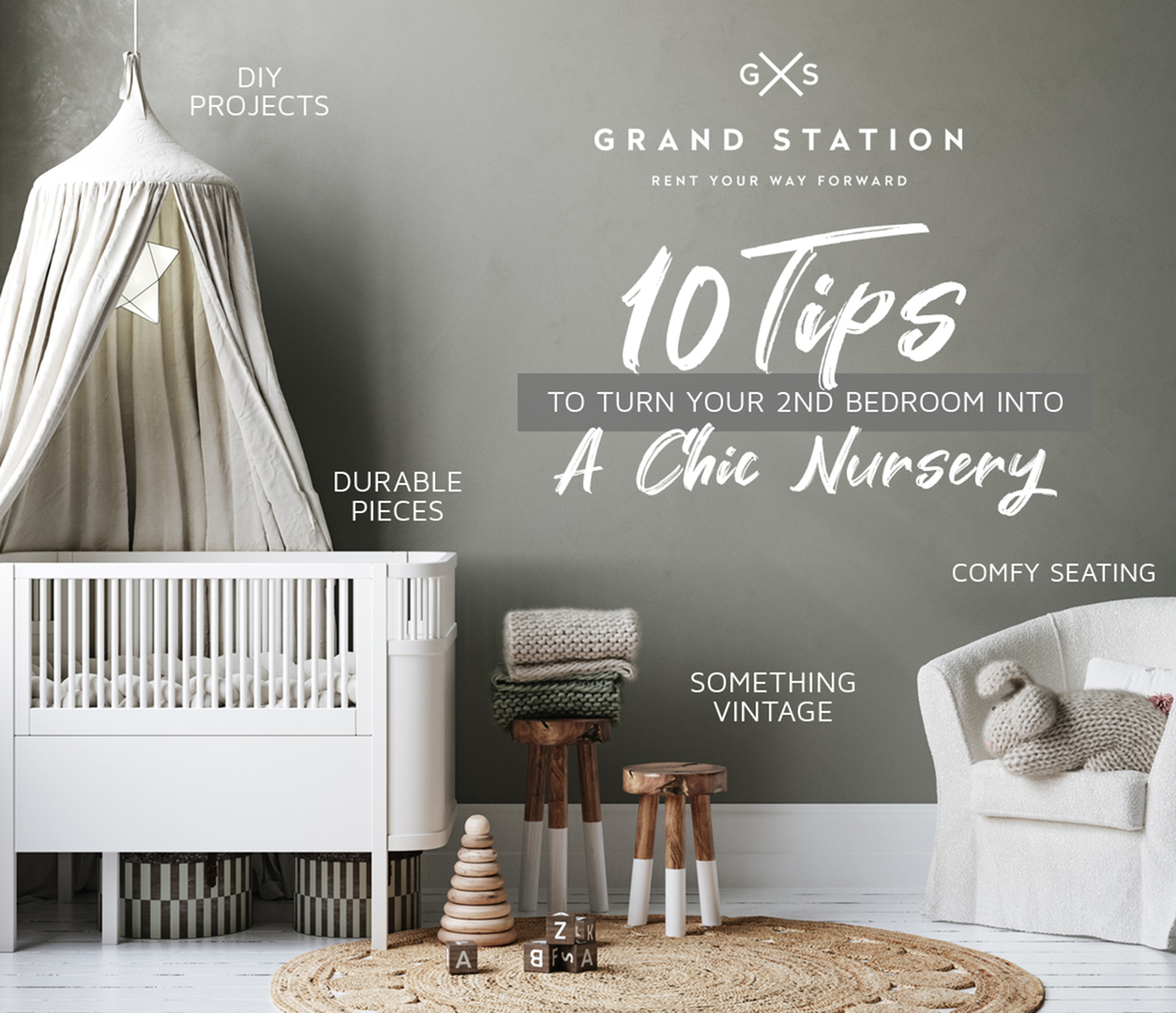 Choose a theme: Clouds, Big Dreams, The Moon, or a Jungle theme are just a few fun design ideas for baby's first room. Narrow your options by creating a mood board. Settle on a specific decorating style and color palette. Pinterest boards are effective, helping you define everything from decor to furniture options.
Create an accent wall: Color blocking, a custom mural, or charming wallpaper can upgrade an ordinary room to a chic space. Paint one wall then sprinkle subtle design details of the same color throughout the space. Minimalism and clean lines are inviting and create a calming ambiance but be sure to make it personalized & fun.
Custom DIY projects: Nothing says you care more than making something with love. A whimsical mobile, crochet teddy bear, custom pillows, or framed textile swatches are not only fun to make but will be cherished for years. The art makes the difference.
A little library: Children's books are fun, colorful, and make for great decor. They promote early childhood learning and quality time with your baby. After all, what parents do or don't do during the formative years can have a profound impact on the child's mental health and life.
Create storage: Babies come with a lot of stuff from clothing and diapers, to linens and toys. You're going to need a place to store things in an organized manner. Dual Purpose furniture like a dresser changing table or storage table can minimize clutter.
Durable pieces: Some furniture, when taken care of, can grow with baby like crib-to-toddler beds & shelving. Washable wallpaper, spill-proof materials, and sturdy furniture are ideal for Nurseries. Upholster your furniture in outdoor fabric or other spill-proof materials to protect from spills and inevitable accidents.
Comfy seating: Make sure you have a comfortable place to sit and feed or comfort your little one. You might sit there for a while, so be sure you have anything you may need at hand like pillows, a blanket, and a cup of water for yourself.
Gender-neutral: We've come to learn that sometimes kids don't identify with the colors pink or blue. Quite honestly, the colors are played out. Neutrals and pastels are modern and serene. Gender-neutral colors like grey, beige, off-white, & peach provide a welcoming environment.
Avoid clutter: Easy places to tuck things when you're done using them are vital. Avoid over shopping! Half of your newborn's clothes, towels, bibs, & blankets might never get used. Keep things minimal and clean.
Something vintage: Nothing screams high-end home decor more than vintage pieces. Family heirlooms, wooden toys, or handmade race cars, bring nostalgia of our own upbringing and wholesome times. One good vintage toy or furniture piece can really make a whole room special.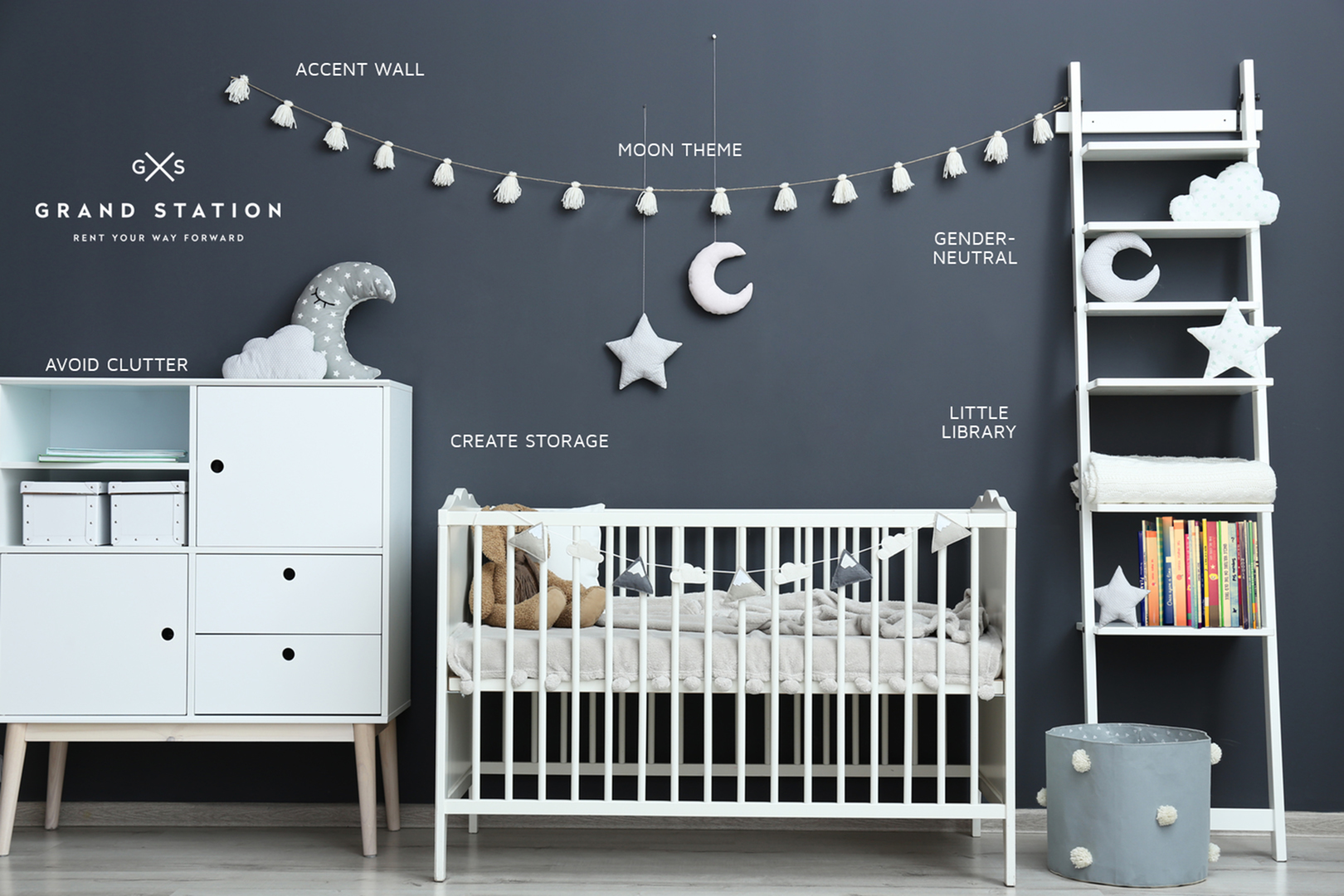 A Nursery is a baby's first sanctuary and welcomes them into the world. Their little space should boast a calming and fun atmosphere full of wonder and inspiration. Follow the 10 Tips above to make baby's room chic, functional, comfortable, and inviting for both baby and you. We hope you enjoy creating a safe and happy place for your child and use these tips as a guide to your own interpretations and creations. Good Luck!